• #veniselace • american cotton • american made • artisan made sleepwear • Belgium • cotton bed jacket • cotton knit • cotton knit bath robe • cotton knit gown • cotton knit loungewear • cotton knit night gowns • cotton knit pajamas • cotton knit sleepwear • fashion history • France • hand-made sleepwear • history of lace • Italy • luxury loungewear • luxury sleepwear • made in the usa • simple pleasures couture
Nothing highlights a neckline or sleeve quite like Venise lace.  Originating in Italy as well as other parts of Europe, these intricate laces were originally made by hand and it could take years to complete one piece to accent a garment.  Lace was eventually adapted to machines, though they themselves were quite complicated.  Simple Pleasures Couture garments are tastefully adorned with Venise lace made right here in the USA.   https://www.belovedlinens.net/lace/Venetian-lace-base.html https://owlcation.com/humanities/History-of-Lace-Making https://en.wikipedia.org/wiki/Lace    
---
• american cotton • american made • bath robe • bathrobe • bed jacket • bedjacket • bedtime • best seller • blog • blot posts • blush • boudoir • bridal • bride • cotton • cotton bed jacket • cotton knit • cotton knit bath robe • cotton knit bed jacket • cotton knit gown • cotton knit loungewear • cotton knit nightgown • cotton knit pajamas • cotton knit sleepwear • dot fabric • dressing robe • ladies nightgown • ladies sleepwear • lifestyle blog • lingerie • loungewear • luxury loungewear • luxury sleepwear • made in tennessee • made in the usa • modest sleepwear • news from the designer • nightgown • pink • simple pleasures sleepwear • simplepleasuressleepwear • sleepwear • womens sleepwear
Since it's introduction, the DOT Collection has been our most popular.  And our Blush Pink has been a hit from the beginning.  I develop all our colors in-house before they are submitted to our dye house for replication and final approval. Thank you for making "Blush Pink" a real winner! "He loved the way she bit her lip and her cheeks flushed that certain shade of pink."  
---
• american cotton • american made • artisan made sleepwear • blog • bride • cotton • cotton knit • cotton knit gown • cotton knit loungewear • cotton knit night gowns • cotton knit nightgown • cotton knit sleepwear • cotton lace • feminine • gift for her • lingerie • luxury loungewear • luxury sleepwear • made in tennessee • made in the usa • modest sleepwear • news from the designer • simple pleasures sleepwear • simplepleasuressleepwear • sleepwear • thefabricofourlives • womens night gown • womens sleeepwear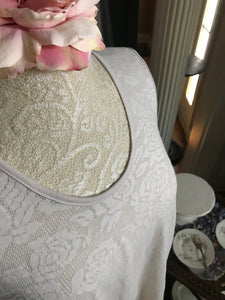 It has been so incredibly hot in Middle Tennessee this summer!  I live in my sleepwear around the clock so I go for the lightest but prettiest thing that I can find. When you have got to be "covered", but want to feel "naked" this is the route to go!   https://www.shop4simplepleasures.com/collections/sleeveless-gowns/products/sleeveless-short-gown-cotton-lace    
---
• american cotton • american made • classic ladies sleepwear • cotton knit gown • cotton lace • Emma • empire waist • female entrepreneur • feminine • ingenue • ladies nightgown • ladies sleepwear • lifestyle blog • luxury loungewear
Lots of new goodies are on the way!  Stay tuned!
---
• american made • artisan made sleepwear • bed jacket • bridal • classic ladies sleepwear • cotton • cotton bed jacket • cotton knit bed jacket • cotton knit gown • cotton knit loungewear • cotton knit nightgown • cotton knit sleepwear • cotton sleepwear • couture • gift for her • ladies nightgown • ladies sleepwear • lingerie • made in the usa • menopause sleepwear • modest sleepwear • nightgown • peignoir • sleepwear • sleepwear fashions • trousseau • venice lace • Venice lace cotton gown • venise lace • womens loungewear • womens night gown • womens sleepwear