• american cotton • american made • artisan made sleepwear • blog • bride • cotton • cotton knit • cotton knit gown • cotton knit loungewear • cotton knit night gowns • cotton knit nightgown • cotton knit sleepwear • cotton lace • feminine • gift for her • lingerie • luxury loungewear • luxury sleepwear • made in tennessee • made in the usa • modest sleepwear • news from the designer • simple pleasures sleepwear • simplepleasuressleepwear • sleepwear • thefabricofourlives • womens night gown • womens sleeepwear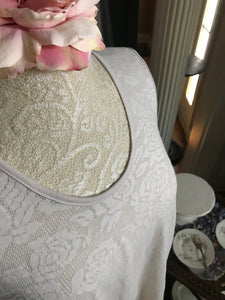 It has been so incredibly hot in Middle Tennessee this summer!  I live in my sleepwear around the clock so I go for the lightest but prettiest thing that I can find. When you have got to be "covered", but want to feel "naked" this is the route to go!   https://www.shop4simplepleasures.com/collections/sleeveless-gowns/products/sleeveless-short-gown-cotton-lace    
---
• american made • artisan made sleepwear • bridal • classic ladies sleepwear • cotton • cotton bedjacket • cotton knit • cotton knit loungewear • cotton knit nightgown • cotton knit sleepwear • cotton robes • cotton sleepwear • gift for her • ladies sleepwear • made in the usa • nightgown • pajamas • robe • simple pleasures • simple pleasures sleepwear • sleepwear fashions • textured cotton knits • textured knit • venice lace • venise lace • vintage style • womens loungewear • womens night gown • womens sleepwear
Products of hard work in the studio! 
---
• american made • artisan made sleepwear • classic ladies sleepwear • cotton bed jacket • cotton bedjacket • cotton knit • cotton knit bed jacket • cotton knit loungewear • cotton knit nightgown • cotton knit sleepwear • cotton robes • cotton sleepwear • ladies nightgown • ladies sleepwear • made in the usa • nightgown • pajamas • peignoir • simple pleasures • simple pleasures sleepwear • sleepwear • sleepwear fashions • textured cotton knits • textured knit • trousseau • venice lace • Venice lace cotton gown • venise lace • womens loungewear • womens night gown • womens sleepwear
  I have decided that I thrive on a bit of chaos...a bit of not having any idea how I will get it all done...finishing up a project with great satisfaction, while I am already mentally halfway into the next one!  Meet Ms. "Tina Eva Renee"..if you know me, you've got to love me.....after all God made me this way... didn't He???!!! Loving the new colors I have developed for our Spring 2019 introductions!  Thanks to those of you who have been my guinea pigs this past year as I have brought pieces into the shop for your opinions and feed...
---
• american made • artisan made sleepwear • bed jacket • bridal • classic ladies sleepwear • cotton • cotton bed jacket • cotton knit bed jacket • cotton knit gown • cotton knit loungewear • cotton knit nightgown • cotton knit sleepwear • cotton sleepwear • couture • gift for her • ladies nightgown • ladies sleepwear • lingerie • made in the usa • menopause sleepwear • modest sleepwear • nightgown • peignoir • sleepwear • sleepwear fashions • trousseau • venice lace • Venice lace cotton gown • venise lace • womens loungewear • womens night gown • womens sleepwear
---
• american made • artisan made sleepwear • bridal • classic ladies sleepwear • cotton • cotton knit • cotton knit gown • cotton knit loungewear • cotton knit nightgown • cotton knit sleepwear • cotton sleepwear • couture • Danielle - 3/4 Sleeve 3/4 Length Gown in 100% combed ringspun cotton. Venise lace neckline. Made in the USA! • dressing gown • hand-made sleepwear • ladies nightgown • ladies sleepwear • lingerie • made in the usa • modest sleepwear • nightgown • simple pleasures • simple pleasures sleepwear • sleepwear • sleepwear fashions • textured cotton knits • trousseau • venice lace • Venice lace cotton gown • venise lace • womens loungewear • womens night gown • womens sleepwear